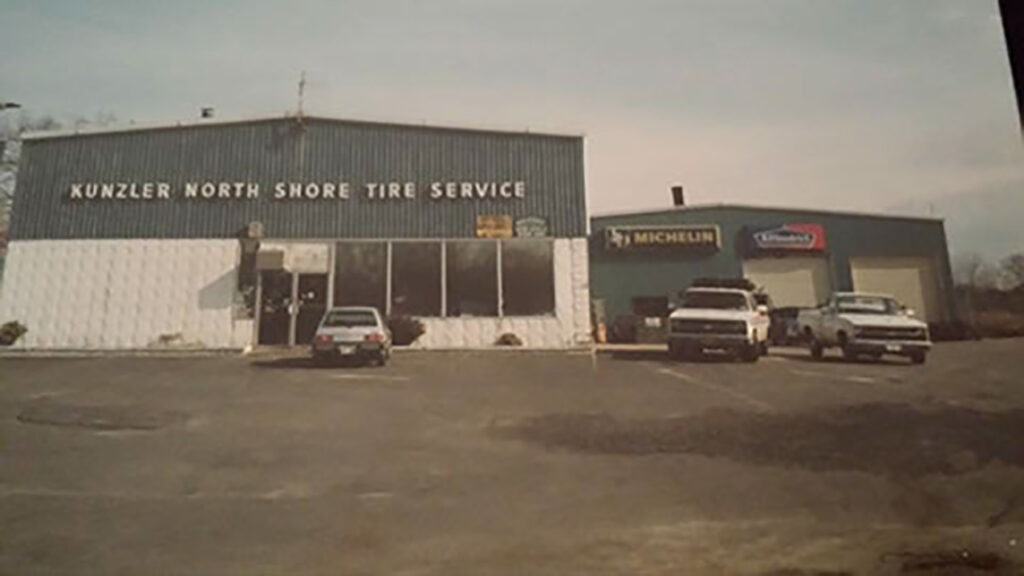 My Grandfather, Robert Kunzler purchased this business in 1957 from Jim Davidson when it was primarily an independent recap shop doing Firestone hot recapping and selling new Firestone tires. It was located on a rental piece of property in downtown Port Jefferson. It consisted of two buildings, a warehouse and another building which housed a small office, bathroom, and work area housing a buffing room, gluing and camelback applying area and the remainder of the building housed the molds and matrixes. For pickup and delivery purposes, there was one dual wheeled pickup truck.
In 1965, the landlord sold the property to the Village of Port Jefferson to construct the "Village Hall" and the tire shop was forced to move to its next location where Robert and business associate Frank Fuhrman, were able to purchase property on Rt.112 for each of their businesses. This agreement between Bob and Frank was done over a hand shake despite what is now considered a poor business practice. Service was done outside in the middle of a cow pasture where Bob had put down crushed rock for a parking lot and work area. The jacks, tools, and stock items were housed in the old farm house while compressed air was supplied from an air compressor off an old service truck.
In 1966 a 50'X100″ Steel Strand building was erected, the farm house was torn down and an asphalt parking lot was installed. In 1968 the business became known as Kunzler North Shore Tire and the first new service truck was purchased and another in 1970. Business was growing, Bob and his wife Norma had been nursing the business for just over 10 years, both manning the phones, she doing the book work and he selling both in house and on the road seeing customers. My grandfather, affectionately known as Grumps to my brother and I always said "Giv'em a square deal, and there a customer for life". I thought that was ironic being in the tire business, although I've always kept that in mind while building the business.
In 1970, my father, John joined the business after college and a year of teaching and suggested an addition to the building to separate the automotive and truck tire businesses. In 1972 a 70'X75′ building was added to the property to accommodate the truck tire business as a work and stock area. At this time, local warehouses were few and far between, and my grandfather had developed quite a relationship with the manufacturers so he was able to buy direct and house a large inventory. They began running 2 & 3 service trucks to service the growing business while adding an automotive repair facility in the late 70's. Bob semi-retired in 1986 at 65 years of age. About that time Bob's daughter, Susanne joined the business and handled the front counter, quickly grasping a feel for the automotive and tire industry, having to constantly prove herself in a territory where women were not normally welcomed, not to mention second guessed. Having a woman at the front counter seemed to put our female customers at ease, which enabled us to be a family friendly auto repair shop.
My brother Robby, and I learned the tire business as we grew and had part time jobs through our school years. After my tour of duty in the Air Force, I worked in the business and expanded it to the eastern end of L.I. In 1995 I made a decision to try my luck in another state. Moving to Atlanta to work for a large multi-state tire company, I began as a service tech and within 3 months I was able to convince my superiors to let me try my hand as a salesman. I was sent to Michelin sales training school as well as Bridgestone and Firestone. The education I received not only the classroom or textbook as well as on the street, I consider invaluable. Things were going well, although I felt an obligation to my family. After two years I made a decision to come back to L.I. to continue in the family business. In 1997 I bought the commercial end of the business changing the name to Dave Kunzler Tire.
We currently operate 3 service trucks out of our original location concentrating on the construction, trucking and municipality business as well as Passenger/Commercial Tire Sales ~ OTR/Farm Tire Sales ~ Automotive/Truck repair ~ Alignments/Brake Service business.